Orders are taken until 21:00, so you have enough time to enjoy your tea until closing time at 22:00. Thank you for your understanding.


| | |
| --- | --- |
| I don´t know | 5€ |
| It doesn´t matter(sweet) | 5,40€ |
| I want this | 5€ |
| I don´t want this | 4,50€ |
| I can´t choose | 5,40€ |
| This one | 4,50€ |
| Suprise me(7)(sweet, with milk) | 6€ |
Different Kinds Of Problems
| | |
| --- | --- |
| I might be sick (sweet) (sladené) | 5,50€ |
| Hangover cure | 5,40€ |
| I am feeling hot (4dcl) (sweet) | 5.40€ |
| I need change | 5€ |
| I need a boost | 5€ |
| I dont have time (0,04l) | 2,90€ |
| I am not thirsty (1,3,7,8) | 1,90€ |
| | |
| --- | --- |
| The most favourite (sladené, s mliekom) | 6€ |
| The most energetic | 5,40€ |
| The most sour | 5€ |
You pay at the tea-bar. Tips are not included.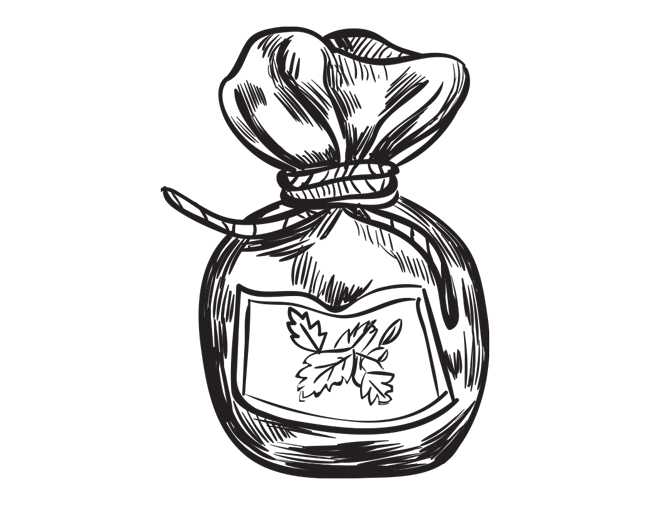 Tea around the wrold
If you want to try a taste tea adventure, we have a way how you can do it. Tea journey around the world. Let different tastes of teas from different parts of the world dive your mind into world of tea. Ideal for beginners who want to start their journey across the tea culture, but also for experienced experts who can not choose what they want. (preparation: 15 minutes)
(6 x 2dcl)
Taiwan - Taiwan Gaba
Čína – Lung Ching
India – Darjeeling
Japan – Sencha
Africa – Rooibos Masai
America – Mate Rancho
You pay at the tea-bar. Tips are not included.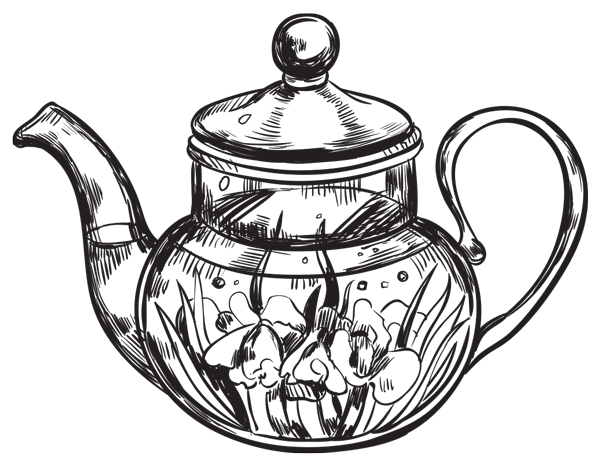 SAMURAI SHOT
Take courage - Try one shot - Repeat at least 3x ! Bombastic TEA Extract that has a natural flavour and kicks your energy without alcohol. Excellent choice if you don't have time for tea, but you need extra energy.
Sweet Flower - Selected taste of green Japanese Sencha tea is covered with sweet sugar cane, roses, lychee and grapefruit.
Maté Rio - Refreshing and energizing taste of Brazilian mate in combination with flavor of maracuya and citrus. 
Masala Spicy - It comes from the traditional Indian recipe of a spicy black tea drink. It is a strong drink without milk.
Not suitable for children, pregnant and nursing women.
You pay at the tea-bar. Tips are not included.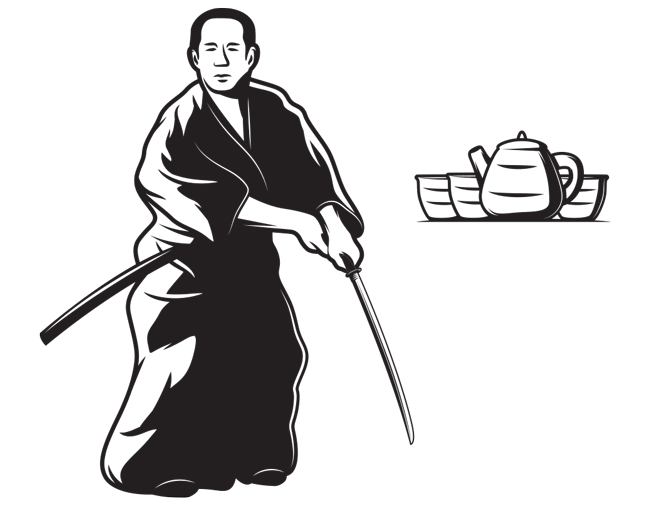 GREEN TEA
Green tea is made from mostly hand-picked tea leaves that have not undergone an oxidation process during processing - this is stopped by baking in a pan or steaming. The chlorophyll and tannins contained in the leaves did not change and the finished product retained the natural color of the tea leaf.
An Ji Bai Cha 
The taste is refreshingly delicate and soothing, with a slight hint of bamboo or fresh peas sweetness in its aroma, with long aftertaste.
6,10€
Pi Lo Chun
Tea is grown among mandarins and other flowering trees. That's why the taste is sweet with fragrances of honey and fresh fruit.
5,40€
Tai Ping Hou Kui
One of the ten best and most famous Chinese green teas.The taste is pleasantly sweet and reminiscent of orchid flowers. With each new drink, you will discover new flavors that will develop to the tones of Japanese green teas.
6,50€
Yunnan Zao Chun
Fresh spring harvest tea from Yunnan. Dry leaves have fresh aroma with touch of fruity tones. The brew has sharp yellow and green colour, fruity taste with typical chestnut flower aroma.

5€
Jasminové Perly 
Slightly sweet notes are balanced with a vegetal tone and a smooth, lightweight body.

5€
Bancha
It has the grass and wild taste as Sencha, but its effects are calming and harmonizing.
 5€
Sencha
This tea is presented with sweetness and flowers. The infusion has rich, refreshing and long-lasting taste.
 5,40€
Tamaryokucha Minekaori
It is processed by the traditional method of roasting on hot plates like Chinese green tea. The Minekaori cultivar means "the smell of a mountain peak". After pouring, the aroma is fruity woody and creamy herbal. The taste is complex, pleasantly sweet, with subtle umami combined with hazelnut tones with a long aftertaste.
 6,50€
Hojicha
The taste of the tea is slightly nut without any astringency. It has low caffeine level, that's why it is suitable for evening drinking.
 5€
Kukicha
Delightful, fruit, sweet and fresh - simply delicious light-green infusion. Since it has low caffeine level, it is suitable for evening drinking.
 5€
Genmaicha
Green Tea Sencha is mixed with roasted rice. The tea has delicious nutty taste combined with fresh grass taste of Sencha Tea.
 5€
Japan Gaba Hikari
Special experimental tea. Tea gets more intense aroma and maximizes the amount of gaba.
 6,50€
Gyokuro
The taste is sweet and strong with fruit traces and light flower accent.
 6,90€
Matcha (1,5 dcl)
It has an umami savoriness that Japanese tea lovers will adore. Its lasting aftertaste kicks off with a burst of wheatgrass flavor.
 7,90€
Woojeon
This green tea is the first harvested tea in the spring and it contains only buds and youngest leaves. Also the name Woojeon means "the first spring". After infuse the tea leaf resembles grass and freshly hay with its aroma. The brew is almost translucently yellow. It has a light, resh taste with sweet notes and it contracts with the aroma and colour.
 5,20€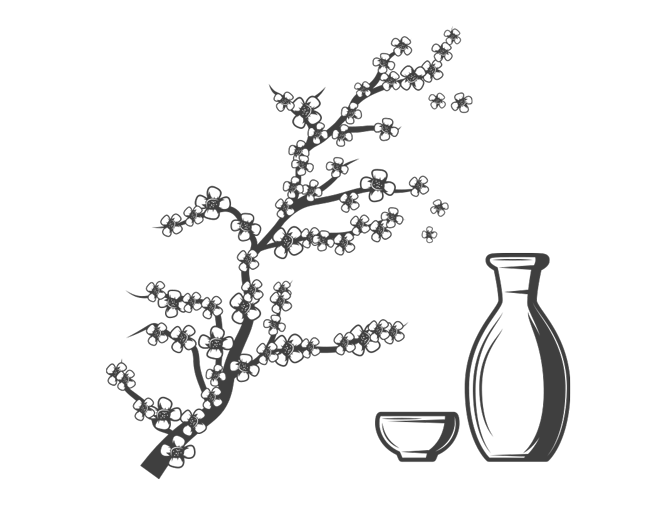 Oolong tea
Oolong - comes from the Chinese word WuLing (Black Dragon). Oolongs are a group of teas, which we classify by processing between green and black teas due to interrupted oxidation of the leaves before drying. It is truly an unexplored treasure of smells and tastes. The leaves are green to brown with an infinite number of aromatic tones, depending on the length of oxidation. It is a type of tea created for everyone.
Taliensis Oolong
Handpicted and handproceeded tea out of wildly growing mountain trees camellia taliensis in the North of Thailand in organic gardens. Deep honey colour of a brew, sweet and wooden taste with smooth flowery ending.
 4,50€
Taiwan Gaba
The infusion has a deliciously rich, floral-sweet taste with a scent full of fruit and honey tones.
 5€
Tie GuanYin
The leaves are green, the scent is orchid and the taste is very delicious with flower tones and long honey aftertaste.
 5,40€
Santikhiri Gui Fei Oolong
After brewing i tis darker golden yellow colour, which during brewing turns to golden orange color. Taste is full, vivid, slightly sweet with nice and decent touch of flowers and nuts. Flavour is thick and rich with tones of noble woods, resin and spices.
 5,50€
Gaba Oolong
It has very interesting and specific taste that is reminiscent of overripe apricots and pears. Scent reminds raisins and prunes.
 5,40€
Shui Hsien
It brews to a dark brown color and has a peachy-honey taste with a slight mineral flavor. The aftertaste is very long.
 5€
Santikhiri Gui Fei Oolong
This legendary ancient oolong carries the essence of rocks under which it grows. The smooth and complex flavor predominates baked bread flavor with fine floral tones.
 5,50€
Nai Xian
The name Nai Xian means "Milk Fragrant", and as its name suggests, this tea is characterized by a distinct milk-like fragrance and taste.
 5€
Ginseng Oolong
It gives good extent of aftertaste as well. The flavor of tea and taste lingers down the throat for a long time.
 5€
White Tea
White tea is relatively rare, valued especially for its regenerative effects. They provide effective protection against free radicals formed in the body and thus slow down the aging of cells. It helps with cardiovascular diseases, has antioxidant effects and its regular drinking prolongs life. In ancient times, it was intended exclusively for Chinese emperors and the imperial court. It was requested by the emperors mainly for its revitalizing effects. And what was good for the emperor should be good for you too.
Show Mee
Tea has a light brown color, moderate roasted aroma, mild roasted flavor with very fine freshness and fading aftertaste.
 4,50€
Pai Mu Tan
Unique chinese specialty. Pai Mu Tan has a delicate silky round taste with light color. Aftertaste is long sweet with peony flower end.
 5€
Nepal Spring White
The leaves are collected exclusively by hand. The scent of dry leaves is herbal floral. A delicate golden infusion with a gentle breeze of sweet flowers without any bitterness leaves long sweet aftertaste.
 5,40€
Fuding Laoshu Baicha 2015
The traditional way of making white tea by drying firstly in direct sun and secondly in half shade can be found nearby chinese town of Fuding. As long as the tea is not rolled it retains its natural sweetness without bitterness and tannin. It is also pressed into the tea cake and therefore it is more smooth and if you decide to brew it yourselves it can handle many and many brewings.
 6,10€
Darjeeling tea
Darjjeling tea is called "champagne among teas" due to its taste and aroma. In terms of processing, this tea ranks among black teas, but it is not a typical representative of this category. The taste is much softer and the aroma lighter.
The first flush occurs after the winter when fresh delicate buds sprout on the tea bushes. Spring teas could be classified as green or white teas. The typical taste for the first harvest is very delicate and a little bitter. In the taste we can find tones of fruits and flowers.
The second flush is tea that is harvested in the summer. This tea is more of a black tea. The infusion is golden-orange to red in color. The typical taste for this type of tea is ripe, full and rich. In the taste we can find tones of ripe fruit, nuts and muskatell.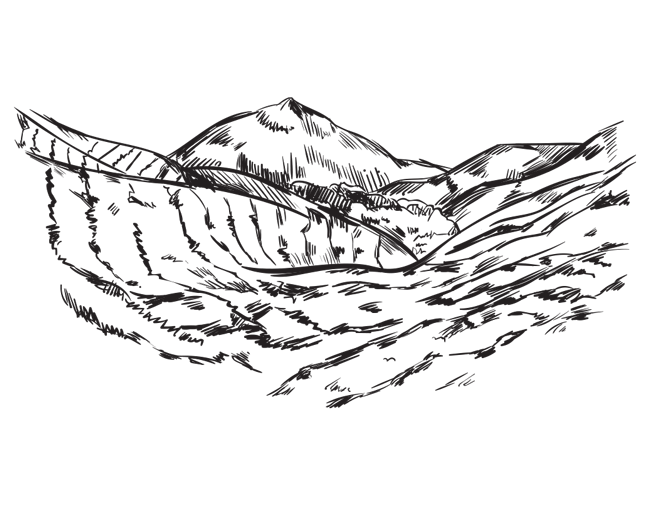 Darjeeling Dooars Putharjhora 2022 FF
Slightly oxidated tea from Puttarjhora garden in organic quality. It has fresh and elegant aroma with juicy taste.
 5,70€
Darjeeling Rohini Jethi Kupi 2022 FF
Exclusive tea out of early spring harvest. It has slightly spicy to fruity tones and beautiful bright and smooth golden brew with sweet taste and freshness. The aftertaste is with decent end and unripe fruit.
 6€
Darjeeling Rohini Enigma Gold 2021 SF
Select tea from India's Rohini plantation in Darjeelig from screen-type teahouses. Tea has a higher amount of golden tips. The infusion is dark orange to golden brown. The taste is full, intense, but at the same time smooth and balanced. Light fruity tones, dried raisins and plums with a hint of chocolate
 5,50€
Black tea
Black tea differs from green primarily in that there is a process of oxidation. The most famous black teas come from Indian Darjeeling or Assam. Processing methods and types of black tea vary considerably depending on the area. Thanks to its caffeine content, it can largely replace drinking coffee.
Assam Nahorhabi
Tea has a golden color with a full and balanced taste. It is a strong black tea that is perfect for drinking with milk and honey.
 5€
Nilgiri Kairbetta Winter Speciality Tea
This tea is from Kairbetta garden in Nilgiri, Blue moutains. It is harvested during the last week of January, which is known for the most exclusive tea harvests called Frost tea. The procession is similar to Darjeeling teas. You can taste fruity, honey and flowery tones in it.
 5,20€
Arya Tara Golden Tips
It has a very pleasant scent resembling raw sugar. Taste is harder, full and sweet with a trail of honey, flowers.
 5,40€
Nepal Himalayan Handrolled
Only tips and the first ticket are collected, the whole process takes place manually. The aroma is sweet honey, slightly chocolate. The infusion is exceptionally delicious and sweet with tones of orchids, other flowers and honey.
 5,40€
Qi Men Mao Feng
It has also been made widely familiar as one of the four world's best black tea. Taste where you can find tones of honey and nuts with occasional hints of fruit, vanilla and chocolate.
 5€
Dianhong Baihao Jinzhen
Dianhong means red Yunnan in translation (Yunnan is China province). It means, that i tis red tea with high amount of orange tips (jinzhen – golden needles). I tis the spring harvest, it has glassy brew with scent and taste by apricot and cocoa beans. This tea is highly energising and it has warming affect.
 4,70€
Dianhong – Gong Fu
The scent is balanced with tones of dried apricots, dark forest honey, pure vanilla and ripe peach. The taste is very delicious with sweet aftertaste.
 5€
Golden Monkey
A typical thin leaf gives a pleasant infusion with a distinctive body, mild cocoa bitterness but without bitterness. The aroma is sweet with tones of dark chocolate and a delicate fruity ointment.
 6€
Ceylon Vitanakande
The brownish - red infusion has a delicate creamy character with a very balanced flavor, in which the senses of precious gourds, honey and chocolate can be found.
 5€
Taliensis
Premium black tea with organic origin from gardens of wildly growing teatrees. It is handpicked and the harvest contains only buds and first leaf. The aroma is fruity with notes of honey and flowers. The brew is amber colour and the taste is brittle and velvet smooth.
 5€
Benifuki black organic
The Benifuki is a special japanese cultivar of tea tree (camellia sinensis), which was bred in 1993. Thanks to its high level of antioxidant EGCG it has rarely positive income for a body, therefore it is really popular. This tea is proceeded as black tea, so it is not the common version of Benifuki, usually green tea. The aroma is slightly sweet with intense roast and in taste you can spot cocoa.
 5€
English Breakfast Tea
A mixture of Assam black tea with Ceylon and African tea, suitable for early morning drinking. Very good with milk and honey. It has a full taste and a stimulating effect.
 5€
China Coconut
Excellent flavored tea with unusually large pieces of coconut that leave a distinctive characteristic coconut flavor and aroma.
4,50€
Lapsang Souchong
The Tea of Mystery - The entrancing, smoky character of this tea is achieved by an elaborate process. The hand-picked leaves are smoked over pinewood embers, for a distinct and mysterious cup.
 4,50€
Earl Grey 
Aromatic bergamot adds a refined tart citrus taste to this dark tea.
4,50€
Pu Erh
Pu Erh is a city in Yunnan Province where these teas are made. It is the only tea in which the fermentation process takes place. Pu Erh can be produced in 2 different ways.
Shu Pu Erhis ripe from production. The leaves are placed in thick layers and moistened with water. Subsequently, they are covered with thick sheets for several hours. Under them, the tea is steamed and the action of bacteria in it accelerates the ripening.
Sheng Pu Erh is basically fresh green tea, the leaves are steamed and pressed and then dried in an oven. Some moisture remains in the leaves, which under suitable conditions, together with oxygen and bacteria, causes the tea to ripen. The tea is considered mature after 5 to 10 years.
Yunnan Small Leaf
Pu erh offers a lightly earthy aroma, rich body and a soft, sweet flavor. The aftertaste is smooth and clean. Brewed longer, it will develop a cup color as dark as espresso but will never get bitter.
 5€
Yunnan King of Pu Erh superior
Imperial class of this famous, additionally fermented tea has very harmonious, comprehensive taste, with slight taste of milk and cream.
 5€
X.O. Vietnam Giang Tra Pho Nhi 2002
Extraordinary archivated tea — black shu Pu'Erh — with huge taste of groundy flavours and aromas of wood, ground, beetroot and warm aftertaste. For lovers of this type of tea, but also basically for tea lovers, this tea is absolute pleasure.
 5€
Jinxiu Gushu Shaiqing Maocha
This tea is processed as maoch and therefore i tis not pressed into tea cake. And that is the main factor to affect its taste. The brew is orange to yellow in colour and meadow flowers scent. There are hints of citrus in the taste and the aftertaste is sweet.
4,50€
Yue Guang Bai
White moonlight - is unique, so-called. white Pu Erh. The color of the brine is yellowish and the aroma is distinctly herbal with a subtle tone of fruit. The taste is sweet, very complex and evolves with every infusion. It is an excellent first-class tea.
 7€
Pu Erh Green
High quality green "sheng" pu-erh, or better yet mao cha, from the southern areas of Yunnan. The tea has traditionally been dried in the sun, without accelerated modern drying in the oven, and therefore does not contain the slightest hint of unpleasant smoking.The taste is very delicate, sweet with floral tones with a long-lasting fruity aftertaste.
 4,50€
Mangshui Gushu Lingyun - Poézia rozprávky
The tea consists of high quality, yellow leaves from old trees – gushu huangpian and from full-featured tips on Mingg. The yellow leaves are moreover sweet on taste and the tips gives this tea its depth. It has slightly cooling affect on tongue and lasting aftertaste.
5,70€
Herbal Tea
For your request we can prepare a mixture of 2-3 herbs.
Single price is 5€ per 0,5l and preparation time is 10 minutes (unless stated otherwise).
Melissa – a balsam for the soul
Helps soothe irritated nerves, relieves depression, but helps even in case of forgetfulness or insomnia. If we drink lemon balm before bedtime, we sleep well and have nice dreams.
Lavander - Makes you sleep better and makes your skin good looking.
It has a calming effect on the nervous system, improves mental endurance, anti-inflammatory and antibacterial effects.
Linden – helps to warm the body
It serves as an effective prevention against the attack of the bacteria and viruses, strengthens the body's selfdefense.
Nettle - Detoxifies, improves blood circulation and helps to lose weight
Its beneficial effects range from cleaning the blood and digestive tract through treatment of inflammation, mental health problems, to beautifying and rejuvenating properties.
Sage - will help with digestion.
It is suitable for menstrual pain. Also helps with fever and cough. If you suffer from oily hair, hair loss, and head scalp problems it is a good choice
Elderflower - helps with flu
Thanks to its anti-inflammationeffect helps to the organism to fight viruses. It is ideal for fight against flu and upper respiratory illnesses.
Hemp tea – Strong, encouraging, pulsing (5,50€ for 0,5l)
The warm tea has relaxing effects, and the cold is refreshing. It is recommended to drink in case of insomnia, migraines, joint pains, muscle cramps but also bad mood. Supports digestion and function of internal organs. It does not contain psychotropic substances.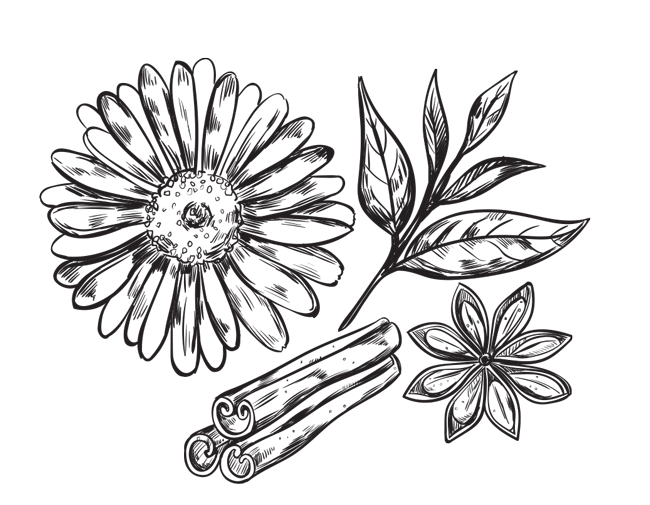 Jednotná cena za 0,5l je 5€ a doba prípravy je 10min (ak nie je uvedené inak).
Maté Rancho – Yerba Maté 
Yerba Mate has the "strength of coffee", the health benefits of tea. Yerba mate has a slight astringent bitter taste due to the high tannin content of the leaves. Yerba mate is a central nervous system stimulant containing caffeine, but it also contains a number of other nutrients, including antioxidants, amino acids, polyphenols, vitamins and minerals.
Maté Carnival
Excellent refreshing tea with an exotic taste and aroma of distant lands. This outstanding blend will encourage you and will make you feel good. Prolonged flavor belongs to one of the many qualities of this mixture. Ingredients: Mate Pampero, cocoa bean, Rooibos, pieces of almonds, cactus flowers, cornflower and sunflower petals, aroma. Attention: allergens: nuts - almonds
Lapacho (Preparation 20 minutes)
Lapacho tea is a purely natural product from the inside of Lapacho tree bark. Lapacho cleanses the organism, starts the immune system, has a positive effect on the liver and kidneys, supports digestion and timulates the metabolism. It improves the blood flow in the body, which has a positive influence on the heart.

Rooibos Massai 
It has a soft and pleasant taste. Rooibos contains plenty of vitamin C and minerals. It can be enjoyed warm or cold.

Rooibos HotChocolate
Hot, sweet and spicy, very special blend of rich South African rooibos with chai spices and cocoa nibs is the herbal equivalent of hot chocolate.
Rooibos Capetown 
Rooibos Capetown is the delicious blend of rooibos, marigold, rose petals, and blue mallow flower with orange and lemon flavor.

Rooibos Bloodorange
Red rooibos fragranced with bloody orange. Infusion is of a characteristic, freshly fruity taste. It does not contain caffeine.
Honeybush Supergrade
It works against allergies and sleep disorders, contains a lot of important vitamins and minerals. It helps with digestive problems. It got its name thanks to its strong honey aroma.
Carcade
The infusion is red with a slightly acid, intense and delicate sour flavor. It is digestive, calming and aphrodisiac. The Carcade Tea is a social drink in Egypt which is even sold on the streets.
Nana –
Nana is a mint that grows in the Mediterranean countries. It has positive effects on human digestion, it promotes detoxification and has beneficial effects on the digestive tract. Nana is a response to any stress, mild pain, improves breathing and soothes digestion.
Ginko Biloba
Ginko biloba is considered to be the oldest living tree on Earth. It can help stimulate and enhance the blood circulation of the body and brain.
Lemon Grass
Plants commonly called lemongrass have grasslike leaves with a strong, lemony fragrance. It supports the ability to concentrate and think, has a beneficial effect on digestion, stress and mental tension. It supports heart function, it is excellent as a supportive agent in the treatment of flu, stomach and nervous disease. Naturally caffeine-free.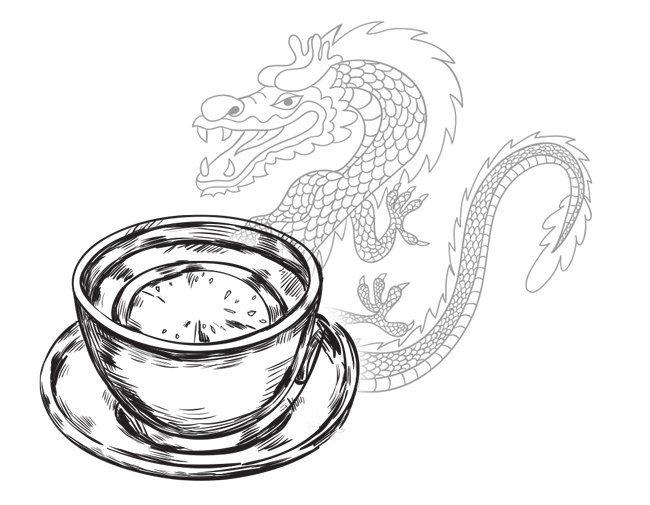 Yogi Masala (Preparation 15-20 minutes)
It focuses on the fiery flavor of ginger, the sweet spice of cinnamon and the bold astringency of black tea. It's hazy red brew has a creamy aroma that can fill the room and a tingly, spiced aftertaste that lasts and lasts…(7) * Option with soy milk + € 0.70(06)
6€
Green Yogi Masala (Preparation 10-15 minutes)
Unconventional Yogi Masala tea, made out of Japanese tea Matcha. Similar spices but quite different and excellent taste. (7) * Option with soy milk + € 0.70 (06)
 6,40€
Sandokán (Preparation 5-10 minutes) (7)
Black tea with pieces coconut. The pleasant coconut smell and taste of this tea combined with the cream will bring you to a whole new world.
 6€
Tuarég (Iced Toareg) (Preparation 10-15 minutes)
Touareg tea is called after the nomadic people of the Sahara Desert, this flavored tea serves almost a ceremonial purpose and is usually enjoyed with a hefty dose of sugar.
5,40€
Adrak – (Preparation 10-15 minutes)
Super drink against cold and cough made out of ginger, mint and hibiscus. Is is softly sweetened. It has a hot taste, which heats your body.
5,50€
Rizé (Preparation 10-15 minutes)
Sweet, dark tea served in tiny tulip glasses. It is not just a drink, but a national treasure. Today, Turks drink more tea per capita than any other country in the world.
5,40€
Red Bush (4dcl) (Preparation 10 minutes)
A refreshing ice-cold brew that has awesome taste. It is prepared with mixed Rooibos and excellent fruit tea. A bit of cinnamon and vanilla sugar is added to make it even more delicate.
5,40€
Matcha Shake (4dcl) (Preparation 5-10 minutes)
Gentle, cool, green milkshake made out of Japanese tea Matcha, uplifting, full of vitamins and antioxidants.(7) * Option with soy milk + € 0.70
Mango or Banana Lassi (4dcl) (Preparation 5-10 minutes)
Nepal, India and Pakistan those are the countries where this drink is drank on daily basis. It is gentle, cool and refreshing yoghurt drink that once you try it, you will want more. (7)
5,50€
Tea Beer (4dcl) (Preparation 5-10 minutes)
By name it might suggest, it contains alcohol, but it is not so. It is cooled tea prepared from Oolong. Excellent, delicate flavor that is slightly bitter sweet can please all the senses.
5,50€
Amate (bottled limonade 3dcl)
Amate is a refreshing sparkling limonade with high caffeine content from matte leaves and plant extracts. The drink does not contain alcohol and is also suitable for vegans. It is full of energy that refreshes and energizes.
2,90€
Fruit tea
0,5l / 5 € Preparation ca. 10 min.
Wild Orange
Refreshing orange infusion with light floral undertones. Ingredients: Apple pieces, hibiscus flowers, rose hip peels, beetroot pieces, apple slices, citrus slices, citrus peels, natural flavoring, orange juice pieces, orange petals, rose petals.
Rum Cream
In this fruit melange the fruity berry note harmoniously melts into the strong rum taste. On cold days, an alcohol-free alternative to classic mulled wine by adding a hint of cinnamon. Ingredients: Hibiscus, grapes, elderberries, flavour, strawberry bits, raspberries
Granny's Garden
An interesting mixture of pieces of dried red and black currants, blackberries, apples, strawberries, red beetroot, raspberry, hibiscus and black elder.
Agua de Jamaica
Untraditional blend of exotic fruit that will take you directly to Jamaica. A mixture of mango, pineapple, coconut, strawberry, apple, hibiscus and a tiny pinch of green tea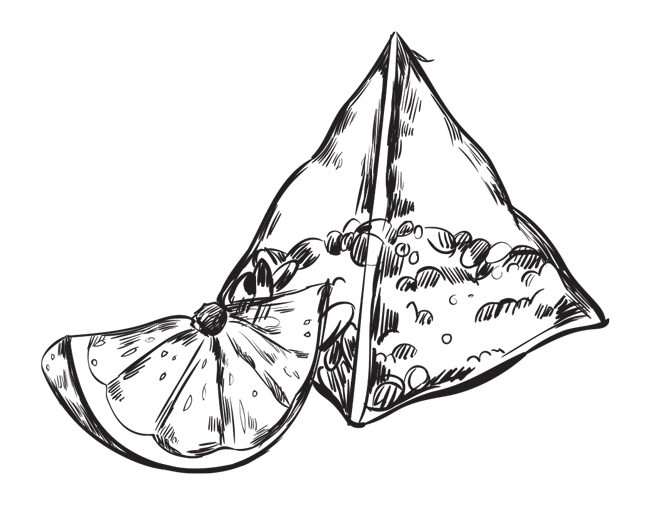 | | |
| --- | --- |
| Caffe – french press (1,5dcl) |  2,80€ |
| Mineral water (5dcl) | 1,80€ |
| Juice – (Apple/ Orange) 3dcl |  2,20€ |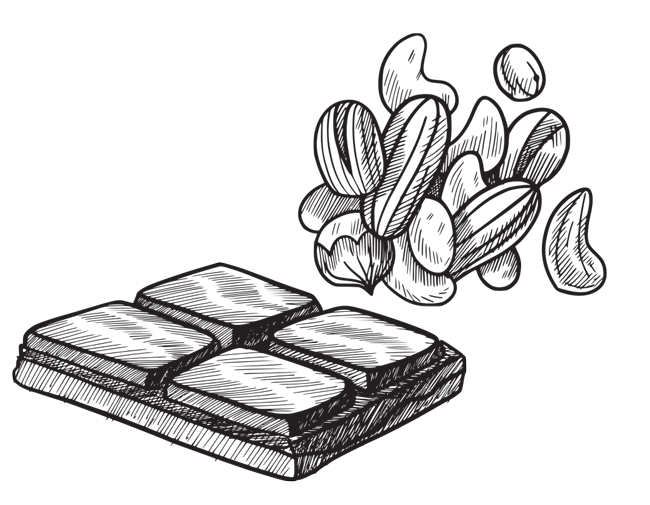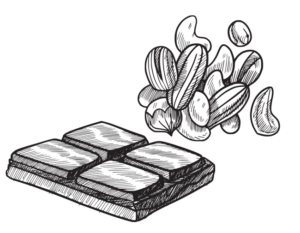 | | |
| --- | --- |
| Milk Chocolate (7) |  4,50€ |
| Dark Chocolate (7) |  4,50€ |
| White Chocolate (7) |  4,50€ |
| Matcha Chocolate (7) |  5€ |
| Whipped Cream (7) | 0,50€ |
| Soy milk (6) | 0,70€ |
| | |
| --- | --- |
| Honey | 0,60€ |
| Milk (7) | 0,50€ |
| Lemon | 0,30€ |
| Water (tea drinkers gratis) | 0,50€ |
Hommos (1,11)
Hummus is a creamy, thick spread made primarily from mashed chickpeas, tahin and kumin that has become popular worldwide. Served olive oil, olives, tomatoes and warmed arabic bread. Extra bread 1€/pcs
6€ / 250g
Baba Ghanoush (1,7,11)
Smoked eggplant dip made with tahini and served with olive oil, tomatoes and olives and warmed arabic bread. Extra bread 1€/pcs
6€ / 250g
Pita Istanbul (1, 7, 11)
Salty cheese, tomatoes, olives and spices zatar - baked in tortila bread.
5,50€ / 200g
Pita Parmiggiano (1, 7)
Grated Parmesan cheese, dried tomatoes, black olives, oregano and basil - baked in tortila bread.
5,50€ / 200g
Pita Libanon (1,11)
Four bowls – zatar spice, tomatoes, olives, olive oil and warmed tortila bread.
 5€ / 150g
Pita Damascus (1)
Chalva, raisins and cinnamon powder - baked in tortila bread.
5€ / 150g
Toasts - ham and cheese (1, 3, 7)
Easy, delicious and cripsy. Toast bread baked with butter, ham and cheese.
 5€ / 4ks
Toasts ham and cheese with basil pesto (1, 3, 7, 8)
Easy, delicious and cripsy. Toast bread baked with basil pesto, ham and cheese.
5€ / 4ks
| | |
| --- | --- |
| Nuts bowl (mix) (5, 8) |  4€ / 100g |
| Smoked almonds (5, 8) | 4€ / 100g |
| Chalva (podľa ponuky) | 3,50€ / 100g |
| Bratislava roll (walnuts or poppy seeds) (orechové/makové) (1, 3, 7, 8) |  1,90€/ ks |
| Dutch caramel waffles (1, 3, 6, 7, 8) |  1€ / ks |
 1. Cereals containing gluten.
2. Crustaceans.
3. Eggs and products thereof.
4. Fish and products thereof.
5. Peanuts and products thereof.
6. Soybeans and products thereof.
7. Milk and products thereof.
8. Nuts
9. Celery and products thereof.
10. Mustard and products thereof.
11. Sesame seeds and products thereof.
12. Sulphur dioxide and sulphites at concentrations of more than 10 mg/kg or 10mg/litre in terms of the total SO2.
13. Lupin and products thereof
14. Molluscs and products thereof